The Laurels of Defiance Staff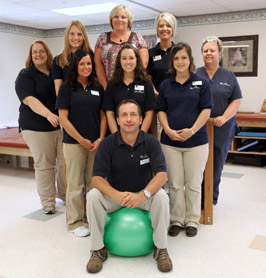 What differentiates one skilled nursing & rehabilitation center from another? The answer is... the people who work and reside there! The people set the tone, the atmosphere, and the expectations. At The Laurels of Defiance, we take great pride in ensuring that everyone feels like part of our family, and that they are treated as special "guests" in our home.
The Laurels of Defiance employs a team of highly qualified medical professionals, including a Medical Director, Registered Nurses, Restorative Care Nurses, a Wound Care Nurse, state tested Certified Nursing Assistants, Physical Therapists, Occupational Therapists, and a Speech Therapist. Our on-site Rehab, Dietary, Social Work, and Activities departments provide personalized and compassionate care to each guest. From the moment you walk through the front doors, the warmth and caring of the staff will begin to gain your trust and confidence, as they strive to exceed your expectations.
Unlike other facilities that use "contracted" staff members, each member of the team at The Laurels of Defiance is directly employed, not "contracted". Each Team Member takes great pride in portraying "The Laurel Way of Caring", as they strive for excellence in providing only the highest standard of care and services to every guest, and to every family member and visitor. Come on in! Visit a while! Let us show you our very best... let us show you The Laurel Way.
Steve Meyer, Administrator
Steven E. Meyer holds a Bachelor's Degree in Gerontology, with a minor in Accounting, from Kennesaw State University. He has been in long-term Care since 1994. He began his employment in a county home serving as an assisted administrator. He began his employment with Laurel Health Care Company in 1995 where he started as an Administrator, serving as the licensed administrator in several of their buildings. He became District Manager with Laurel Health Care and served in that capacity for almost 2 years. In 2003 he became administrator with Harborside Health Care and then rejoined Laurel Health Care a year later. He is currently the Administrator of The Laurels of Defiance. He has lead many of his management teams to several excellent survey and quality ratings results. He is a member of The President's Council which is a council that is given to Laurel Health Care Company Administrators that have been very successful within Laurel Health Care Company.
Susan Pasterz, RN, Director of Nursing
Susan Pasterz has worked at The Laurels for a total of 17 years. She received her RN from Northwest State Community College and loves working with the geriatric population both in the community and at The Laurels of Defiance. When she is not spending time at work she loves to spend my time with her husband and kids. As a family, they have lived in the Defiance, Ohio community for over 30 years. She is also a member of the Trees of Life chapter of Defiance and also the Northwest Ohio Rughookcrafters. The Trees of Life provides a fundraiser every year to raise money for an individual with healthcare needs. Crafting is a passion of hers and the Rughooking guild allows her to express that passion.
Mary Ann Kelly, RN, Director of Marketing
Mary Ann Kelly is a Registered Nurse and serves as the Director of Marketing and Admissions at The Laurels of Defiance. Mary Ann has been a Registered Nurse since 1985 and has worked as a Nursing Assistant, Charge Nurse, Staff Educator and Director of Nursing. Her RN background adds a medical view to the admissions and marketing position. Mary Ann began working for Laurel Health Care Company in 2005 as the Director of Nursing before assuming her new title in 2008.
Renee Bockrath, Rehabilitation Services Director
Renee Bockrath attended The Ohio State University and the University of Findlay where she received her Master's Degree in Occupational Therapy. She has been in the healthcare profession since 2003 and has worked in a variety of settings. Renee is married to Dan Bockrath and they have a beautiful daughter, Mylie. Her hobbies include spending time with family, walking, and cheering on the Ohio State Buckeyes during the football and basketball seasons.